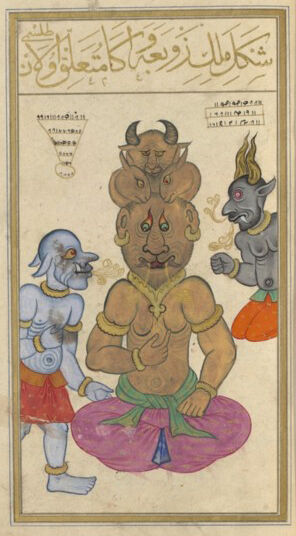 Zoba'ah Abu Hasan (Arabic: ابا النور الابيض زوبعة "Cyclone, father of the Handsome") (al-Abyad), the king Zawba'ah is the lord of Friday, Venus (Zuhroh) the color Green, the metal Iron and is monitored by the angel Anael (عنيائيل). This jinni has yellow ocher skin represented with four animal heads. Two heads in profile superimposed on the first, with a snub nose and two green eyed topped with a red flame. The upper head is distinguished by its two cattle horns turned inwards. The devil is sitting cross-legged in a royal pose, shirtless and wearing large pink pants to the green belt. He is assisted by two other demons, a gray-skinned one, the other being dark-skin with horns. He is the offspring of the goddess al-'Uzza in her epiphet of al-Zahra, the planet Venus. He is feared by most jinn.
From the Iranian world, div have human bodies and animal heads: their eyes are bulging, they have long ears or horns, and often spit flames. Their arms and wrists are encircled by broad bracelets. Two talismans on the top of the image are used to invoke this spirit.
Zawba'ah was one of the nine jinns who listened to the prophet Muhammad recite the Qur'an at Batn Nakhlah.
Note that when they were forbidden from listening [to heaven], and the heavens became inaccessible to them because of the shooting stars, they said, "This is only occurring because something is taking place.' So Zawba'ah [one of their known chiefs] gave the order to his friends to roam the earth, its East and its West, to find out what this event was that impeded them from reaching the heavens. When the friends of Zawba'ah arrived at Tihamah, they passed by Nakhlah, where the Prophet was reciting the Qur'an. They listened to it, and said, 'This is what prevented us from reaching the news from heaven." If they had not recognized the rank of the Qur'an and its inestimable value, they would not have been able to understand this, and they would not have hurried back to their people to warn them.
The Zoba'ah, which is a whirlwind, is said to be caused by an evil Jinnee who travels inside it.
Invocation
[
]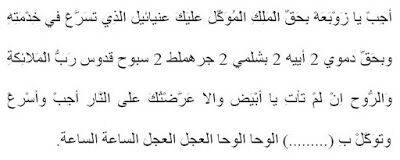 AJIB YAA ZAWBA'AH BIHAQQIL MALIKIL MUWAKKILI 'ALAYKA 'ANYAA-IIL ALLADZII TASARRO-A FII KHIDMATIHI WA BIHAQQI DAMWIYYIN (2X), AYIIHIN (2X), BISYALMAYIN (2X), JARHAMALATHIN (2X), SUBBUUHUN QUDDUUSUN ROBBUL MALAA-IKATU WAR RUUH IN LAM TA-ATI YAA ABYADH 'ARRODHTUKA 'ALAN NAARI AJIB WA ASRI' WA TAWAKKALU BI (.........) ALUUHAN (2X), AL-AJAL (2X), AS-SAA'AH (2X).
Gallery
[
]