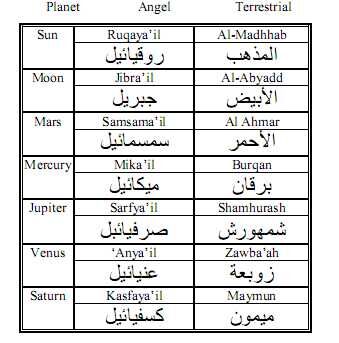 Mulūk al-Arḍīya (Arabic: ملوك الأرضية "Earthly Kings")
Magicians read in their books about these kings, whose names vary depending on the source. According to one version, they were: Mudhhib ("gilder"), Merra, al-Ahmar ("the red"), Borqan ("the gleaming"), Semhuresh, al-Abyad ("the white") and Mimun ("lucky").
Each of these jinn kings has many tribes of jinn subjects to his rule. All the above given names are Arabic -- except for Shamhurish, whose origin is unclear. Shamhurish is considered by some accounts to have been a jinn companion of the Prophet, and some believe he died long ago -- in the early eighteenth century -- and has been replaced by Mutawakkil. 'Abu Murrah' (Father of Bitterness) is a common alias for Iblis. 'Abu al-Harith' (Father of Plowman) is, for reasons lost in antiquity, an old Arabic term for African lion.
Four of the seven jinn kings qualified as 'archdemons', or leaders of infernal hosts: Mudhib, Maimun, Barqan and al-Ahmar. Each of the four archdemons had for his deputy an ifrit, an evil jinni more powerful than a run-of-the-mill shaitan or devil. Mudhib had the ifrit Damriat (or Tamriat), Maimun had Man'iq (or San'iq), Barqan had Wahdelbadj (or Wahdeliadj) and al-Ahmar had Sughal.
Typology of jnun and Parts of the Body Attacked

| Name of jinn | Part of body attacked |
| --- | --- |
| Al-ahmar (red) | Head, uterus |
| Barqan | Back |
| Shamharush | Belly |
| Murra | Pelvis |
| Mimun | Feet |
| Al-abayad (white) | Whole body |
Western
[
]
The Seven Kings of the Air
Picatrix (Latinized Ghayat al-Hakim by Maslama al-Majriti (c. 950-1007 CE))

[

]
Barchia
Bethel almoda
Hamar benabis
Zobaa marrach
Fide arrach
Samores maymon
Aczabi
Heptameron by Pietro d'Abano (c. 1257-1316 CE)

[

]
Varcan
Arcan
Samax
Mediat
Suth
Sarabotes
Maymon
Liber Juratus by Honorius of Thebes

[

]
Batthan
Harthan
Iammax
Habaa
Formione
Sarabocres
Maymon
Ghent Manuscript
[
]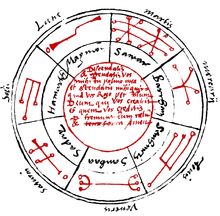 Hamarth
Maymon
Samar
Barchan
Samhuris
Saubaa
Saday
Leipzig Codex "Salomonis Trismosini Cabala"
[
]
N.N.
Maynam
Hamar
Barchum
Semhuse
Sambor
N.N.