We're Getting Mutants in the MCU - The Loop
Play Sound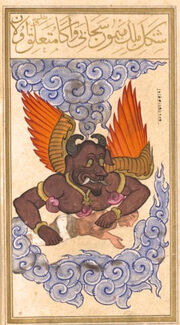 Maimun Abu Nuh, Meymun Aba Nuha (Arabic: ميمون أبانوخ "Prosperous, father of Rest") or Maymun ("Fortunate") also Maymon Rex in western occult, is the king of Saturday, the day of Saturn (Zuhal), the color Black, the metal Gold and is monitored by the angel Kasfa'il (Cassiel). He is the only king of the jinn who has wings and is indeed described as "Maymun of the Clouds" (ميمون السحابي "Maymun as-Sahab"). He is popularly known as a jinni saint by the name of Sidi Mimun or Maimun. He is the servant of minister Dikianos one the closest ministers to Iblis and the one to harm humans by the plague. His ministers as told in western occult are: Abumalith, Assaibi and Belidet.
In the The Book of Felicity (Fol. 85b), Maymun is depicted between sets of lively oriental clouds, the jinni's upper body is shown with the same muscular body, armbands, bracelets and collar as Zawba'ah (Fol. 85a). He has large open wings with gold and red feathers, red flames under his body and a monstrous head with a pointed beard, tusks, green eyes, goat ears and bovine horns. He holds in his hands, suspended in the air, the half-naked body of a sleeping man, perhaps to emphasize his demonic powers as a kidnapper of human beings. An Arab author of magical treatises, al-Buni, describes Maymun as "the winged one", "the black one" and "the executioner".
The name Maymun is a cognate to the Aramaic Mammon, a divinity associated with money. "Maymun", also means "monkey" in Arabic.
Invocation
[
]
AJIB YAA ABAA NUUKH BIHAQQIL MALIKIL MUWAKKILI 'ALAYKA KASFIYAA-IIL ALLADZI TASARRO-A FII KHIDMATIHI WA BIHAQQI AZAALIYYIN (2X), AZLAAZIN (2X), NAQMASYIN (2X), HALSYAMALIN (2X), KALSYATHIN (2X), KASYALTHOOLASYIN (2X), KALSYATIN (2X), LATHOHIN (2X), LA'AATAMIN (2X), BI ŞYAGHLAMIISHIN (2X), SYAMGHOLIISHIN (2X), 'ALSYAAQOSYIN (2X), MIHROOQOSYIN (2X), AQOSYIN (2X), AQSYAAMAQSYIN (2X), SYAQMUUNAHASYIN (2X), ROKSYAAROKASYIN (2X), ROKASYAAKASYLIIKHIN (2X), KALAKHIN (2X), BASYKAAILAKHIN (2X), 'AKMASYIN (2X), LAMHASYIN (2X), 'AWHIN (2X), BIROKSYALIIKHIN (2X), AJIB YAA MAYMUUN YAA ABAA NUUKH WA TAWAKKALU BI (.........) BIHAQQI MAA AQSAMTU BIHI 'ALAYKA ALUUHAN (2X), AL-AJAL (2X), AS-SAA'AH (2X).
Gallery
[
]